WALK REPORT I was joined on this test walk by my friends Matt and Richard, who are to be congratulated for getting up at the ungodly hour of 7:30 on a Saturday morning. After a smooth ride on the fast train to Colchester North, a slow branch-line connecting train took us into Colchester Town where we caught a somewhat skanky bus out to start of the walk near Colchester Zoo. For future walks, I'm considering ditching the bus portion in favor of a cab to the starting point.
Our route on Saturday followed the Roman River: Colchester Zoo – Cheshunt Field Iron Age & Roman Settlement – Chest Wood – Layer de la Haye (pub) – Abberton Manor – Abberton church – Abberton village (pub) – Haye Farm – Fingringhoe (pub) – Rowhedge (pub). This walk is much improved from the previous week, given the addition of one extra pub at Abberton which breaks up the journey nicely. [walk profile]
Here are some photos from our day out. I know, too much camera-tilt. Will make an effort to avoid excessive use of this effect in future photos, but be forewarned, the next couple of batches suffer from it.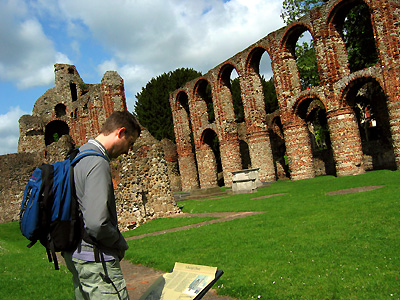 These ruins in the center of Colchester are all that remain of the first Augustinian priory church in England, St Botolph's. Botolph was an influential Christian missionary of the 7th Century AD whose name was given to many churches and towns throughout the East Anglia region of England. It is theorized that one such town is "Botolph's Stone" in Lincolnshire. This name was later shortened to Boston, and replicated across the Atlantic as the capital city of the state of Massachusetts.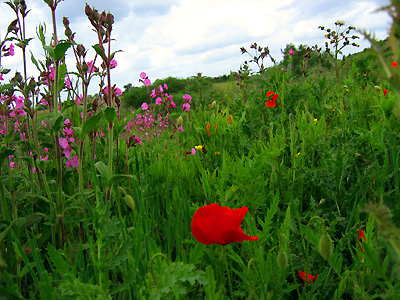 Red corn poppies (Papaver rhoeas) and other wildflowers on a patch of scrub land near Butcher's Wood, just outside Colchester.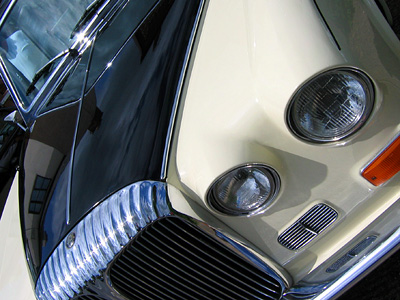 A vintage 1960s Daimler Sovereign we found parked in a driveway in Layer de la Haye village. This car is an early relative of the Jaguar XJ6.