OK, let's see if this will work …
I have tried saving one of the pictures from the Essex walk in different sizes so you can download the image and put it on your desktop if you so desire.
Because the camera I'm using only has around a 4-megapixel resolution, the clarity may not be that fantastic. Your comments welcome, as always.
Ed, thank you for being the unwitting model in this shot!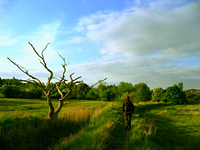 To try out the desktop wallpaper, you'll need to download one of these files. First, pick the one that matches your screen resolution, and click on it to open it in your browser. Then, if you have a PC, you should be able to simply right-click on the image and choose "Set as Background" or "Set as Desktop Background". Mac users, I'm sure it's even easier than that.
1600×1200, 1280×1024, 1280×854 (Mac widescreen), 1024×768, 800×600
Next walk is to Benington Lordship gardens on Thursday. If you want to come, RSVP and be at London Moorgate station ticket counter at 8:30am Thursday morning!
— DW
PS: I've removed the logo from the image so it's ad-free now.