WALK REPORT Pics from Sunday's trip to Bodiam. We were four this day – myself, Michelle, Jess, and Jonathan. In addition to visiting the castle, we watched a cricket match, saw some steam trains, had a picnic tea of vegan truffle chocolates (which melted in the hot sun but still were delicious thank you Jess), drank elderflower cordial on the terrace at the Salehurst Halt pub, and found some juicy wild plums to eat. But the discovery of the day was without doubt our encounter with the English Amish! 17 photos in this set – scroll down to see the larger images. [walk profile]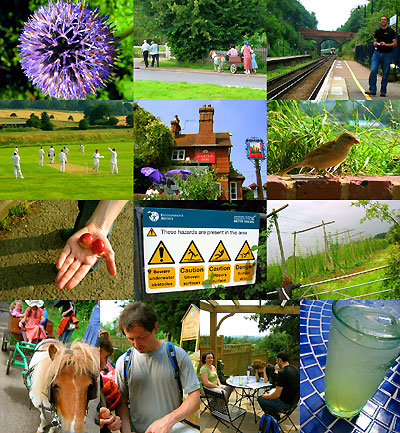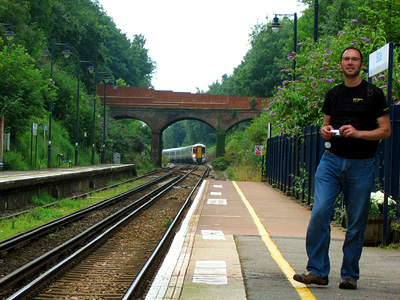 1. Jonathan on the platform at Battle station in East Sussex. The approaching train is our connection on to Robertsbridge where we're due to start our walk.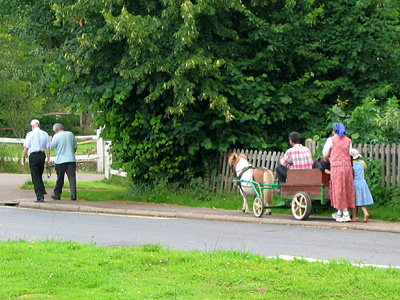 2. This strange sight greets us off the train at Robertsbridge. Who are these people with their odd miniature horse?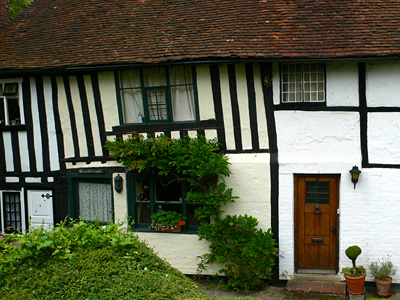 3. A little crooked house. Close-up of a half-timbered cottage in Robertsbridge village. Photo by Jonathan Cronin.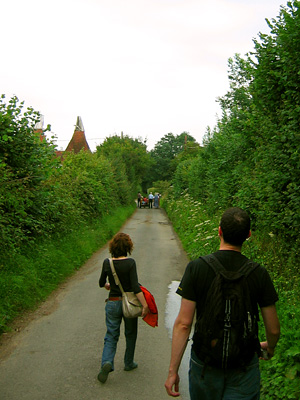 4. Here we are leaving Robertsbridge. Can you see who's ahead in the distance, by the oast house? Wait for photo #6 …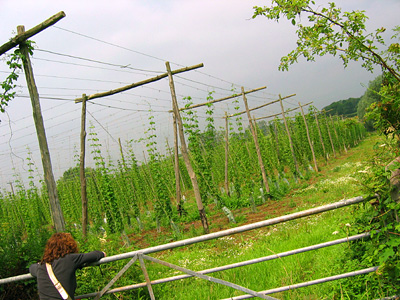 5. Jess stops to check out a field of hops by the roadside.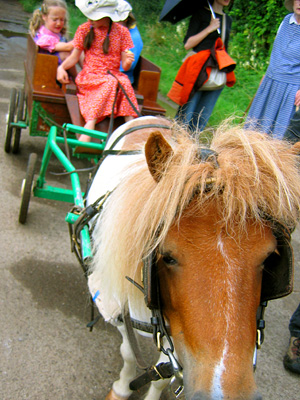 6. Finally, we catch up to our friends with the curious horse. It's a Shetland pony, and these people are members of the 300-strong Darvell community, an Anabaptist Christian group that lives a simple existence in the East Sussex countryside near Robertsbridge – a sort of English version of the Amish. I could find very little about them online, and certainly before today I had never even heard of them!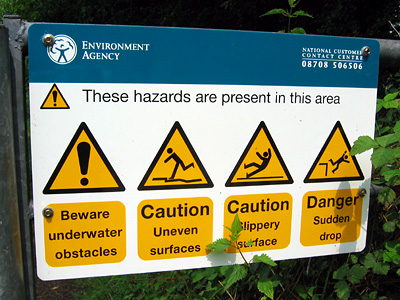 7. A rather silly danger sign on the path into Salehurst.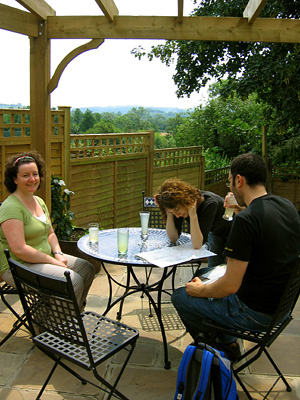 8. Michelle, Jess, and Jonathan on the terrace at the Salehurst Halt pub.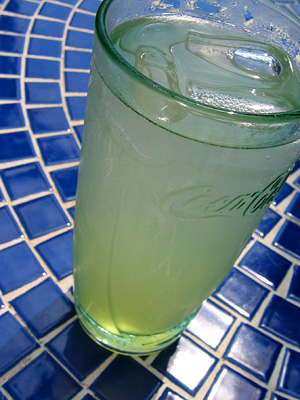 9. We're drinking elderflower cordial. It's home-made and very refreshing. Thanks Oggie and Gareth!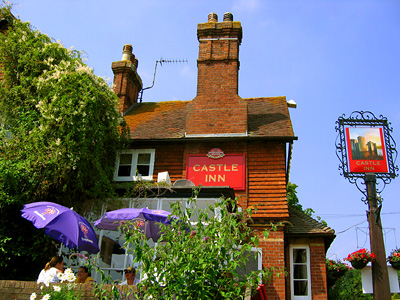 10. Next pub. This is the Castle Inn at Bodiam. The real castle's just around the corner.
Unfortunately, I've just been informed of some legal issues regarding displaying photos of Bodiam Castle on a commercial site, so for the moment, if you want to see pics of the castle from this day, you'll have to visit my personal Flickr page.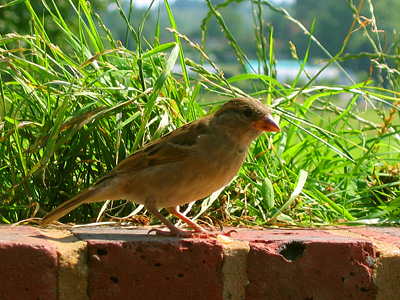 11. Bird on a wall outside the Castle Inn. I think it's a sparrow.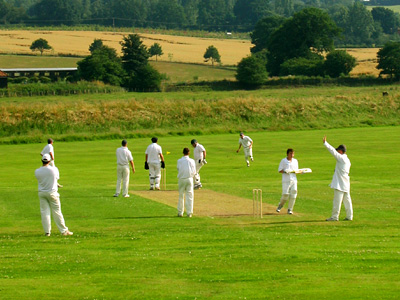 12. After leaving the castle, we stopped briefly to watch this cricket match.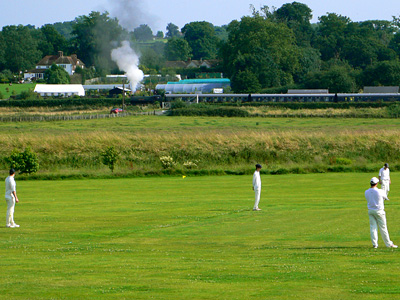 13. And in the distance, beyond the cricketers, a steam train chuffs past on the preserved Kent and East Sussex Railway. A quintessentially English scene. Photo by Jonathan Cronin.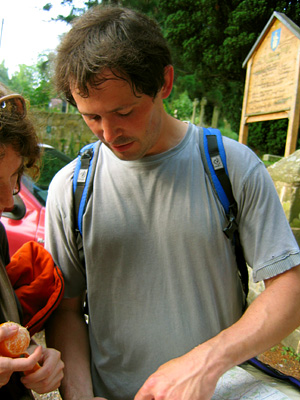 14. "Look, we only have one more mile to go!" Here I am pointing out our position on the map to Jess and Jonathan, towards the end of a long, hot day out. Photo by Jonathan Cronin.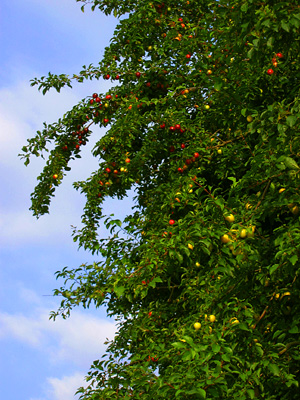 15. This was dessert. A tree full of plums.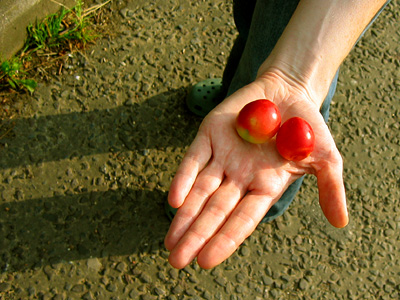 16. Here they are close up.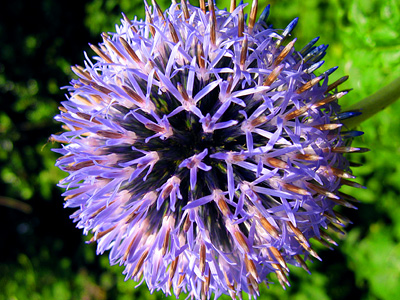 17. My shot of the day was this amazing flowering thistle. It looked just like an exploding firework.
And that's all for today. Thanks for taking the time to look at these pictures. If you'd like to try this walk yourself, this page tells you everything you need to know.
Michelle, Jonathan, and Jess – thank you very much for coming along! Hope to see you again on another walk soon.
Please leave a comment below.