WALK REPORT While parts of England may be inundated with rising flood waters, this was not the case in Kent on Sunday. Myles, Brenda, Alma, and I had a tip-top day out at Leeds Castle. 30 pics in this set. Scroll down for the full-size images, with captions. [walk profile]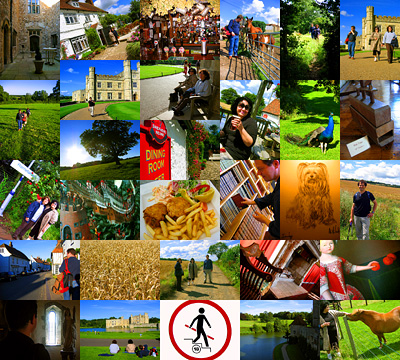 To set the scene: I have a favorite breakfast hangout near my home in North London. It's called Café Crescent, and Brenda, who pretty much runs the place along with her colleague Dan, serves a wicked "Full English" breakfast. Brenda called me up on Saturday night to ask if she and her sister Alma, who was over from Chicago on her first trip to Europe, could come along on my Sunday walk. Of course I said yes! Myles, a good friend from Greenwich, also joined us (and helped take lots of photos).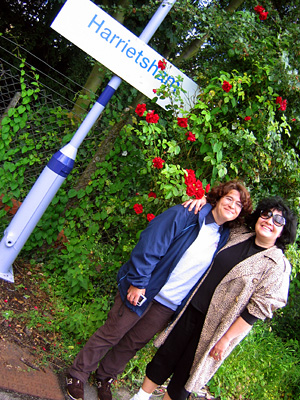 Roses on the platform at Harrietsham railway station, at the start of today's walk. That's Alma on the left and Brenda on the right.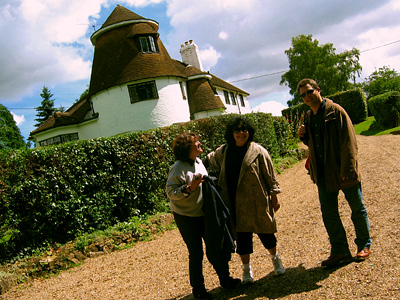 Alma, Brenda, and Myles in front of a converted oast house just outside Harrietsham.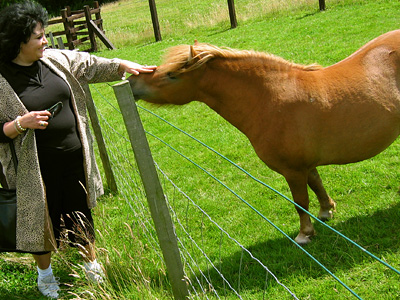 Brenda says hello to the friendliest Shetland pony in the world at Spion Kop Farm. Here's another shot of him from an earlier walk I did.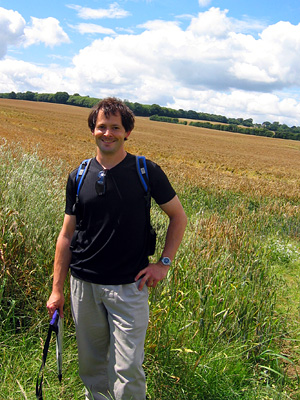 Me and a wheat field, on the climb up to our pub lunch. Myles and Alma, which of you took this photo? I can't remember.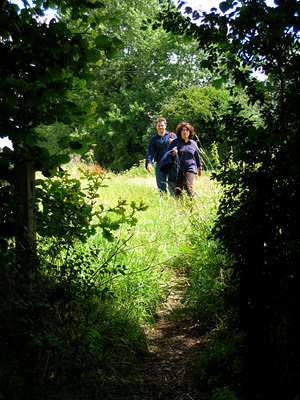 Myles and Alma on the path near Ulcombe. Lunch is just around the corner!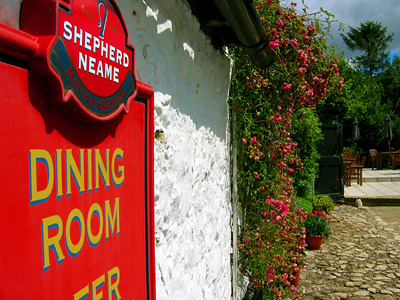 And here we are. This is the entrance to the Eden-like beer garden at the Pepper Box Inn. Perfect weather for lunch on the outdoor picnic tables.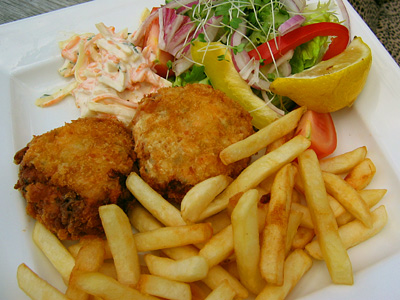 Brenda had these tasty salmon and haddock fishcakes for her lunch.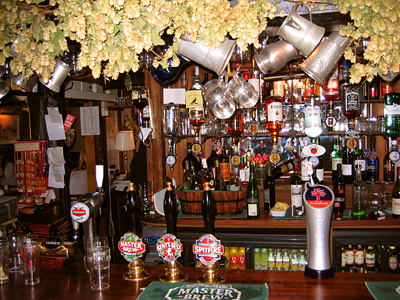 Inside the pub, it's all very cozy. Check out the dried hops hanging above the bar.
Brenda with a pint of Spitfire, a locally brewed ale.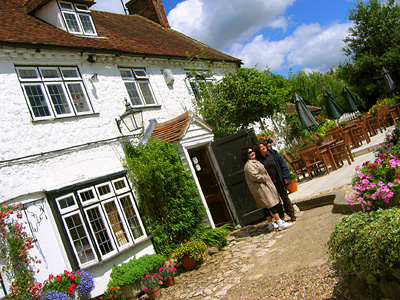 B and A pose for a last photo at the Pepper Box Inn before we set off on our afternoon walk.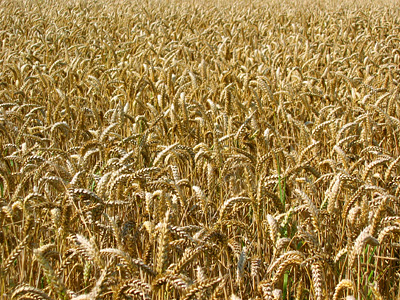 Wheat field, up close. Nice shot Myles! Photo by Myles Pery-Knox-Gore.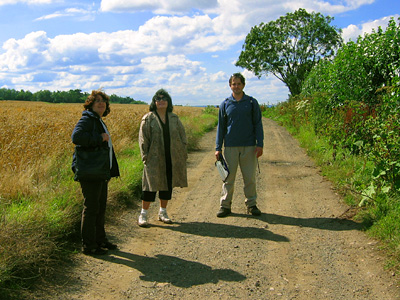 On the road again. Getting close to the castle now. L to R: Alma, Brenda, me. Photo by Myles Pery-Knox-Gore.
MHRD ITALY x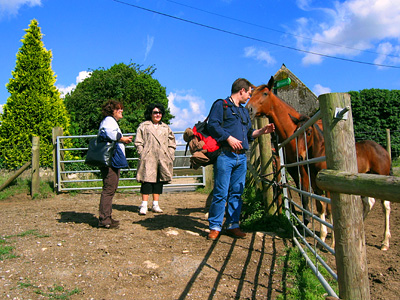 Before we reach the castle, however, we're waylaid by this beautiful pair of chestnut horses at Chegworth Court Farm. L to R: Alma, Brenda, Myles, mare, colt.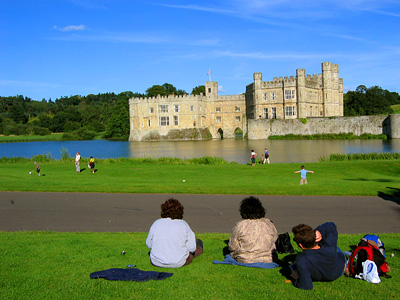 Finally, here we are at Leeds Castle! Time for a tea break.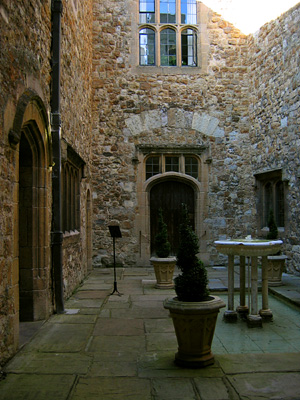 Plenty of treasures inside the castle, such as this sunny little courtyard, for example.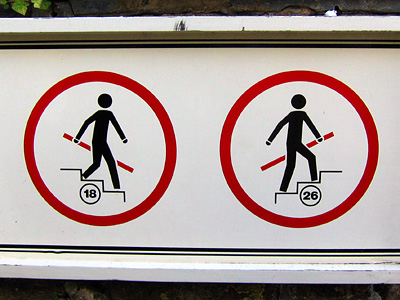 And lots of ups and downs too, as you can see from this sign. No problem for us though – we've just done a five-mile walk so we ought to be able to handle a few stairs.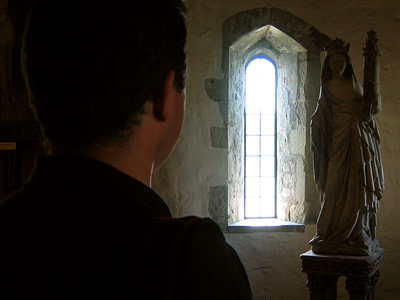 Myles studying the 14th-century limestone statuette of St Barbara, patron saint of artillery.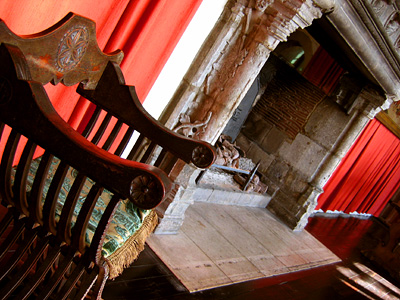 This is the fireplace in the Henry VIII Banqueting Hall at Leeds Castle.
And this is a rat trap. Leeds Castle must have had some pretty big rats back in the day.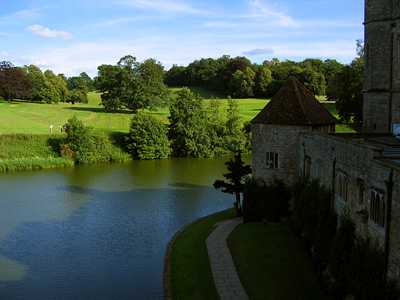 Looking out from inside the castle. The tiny figures you can see on the grass in the distance are golfers – there's a course here. I like the castle shadow on the moat in this shot.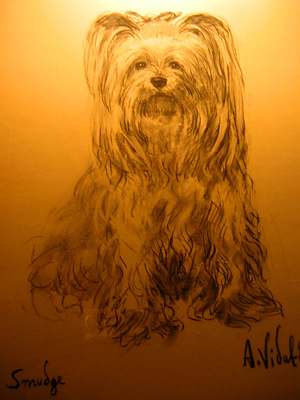 Leeds Castle contains lots of art too. This is a sketch of a Yorkshire terrier that once lived here.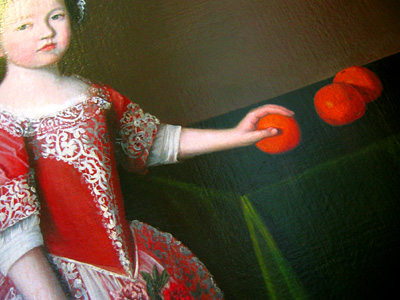 Detail, part of a larger painting.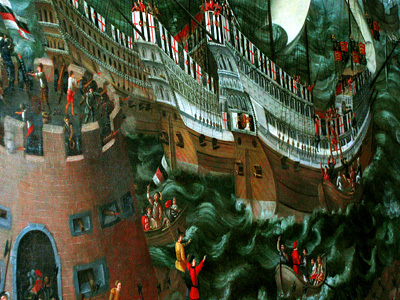 Detail from a huge canvas entitled "Embarkation from Dover of Henry VIII". Henry VIII used Leeds Castle as a stopover with his entourage of 4000 men, before crossing the English Channel to meet King Francis I of France.
Brenda and Alma take five after our castle visit.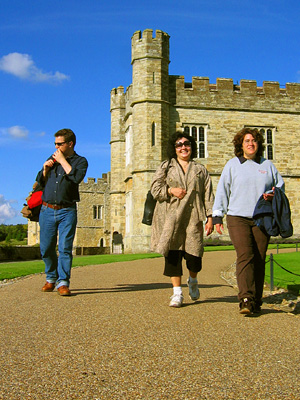 Time to move out for the last stage of our walk. Myles, Brenda, and Alma in the foreground, Leeds Castle behind.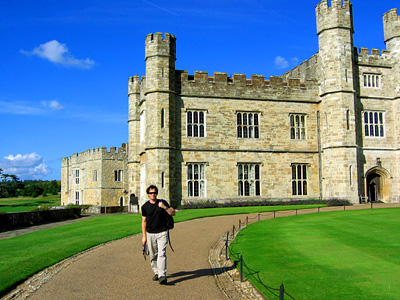 They made me pose for a photo! Myles and Alma, who took this?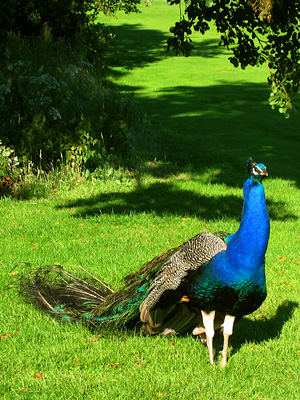 A peacock in Leeds Castle grounds.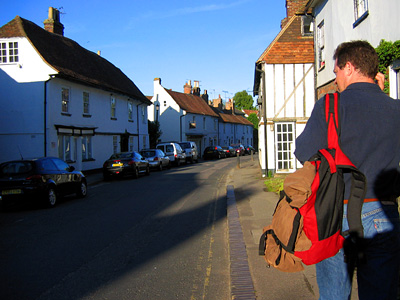 Here's Myles in the tiny village of Eyhorne Street, Hollingbourne, near where we catch the train home. We've just left The Windmill, our last pub of the day.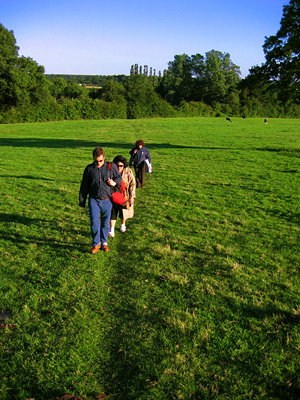 Nice evening light on the path up to Hollingbourne station.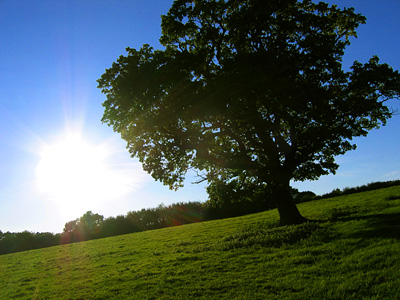 Sunlight filters through the leaves of a lone oak in the middle of a meadow near Hollingbourne station.
That's THE END of this walk. Now you can try it yourself! This page has all the details you'll need. And if you've enjoyed these photos, please leave a comment. (If there's no comment box visible, you'll need to click the blue comment link below and scroll back to the bottom of the page.)
Alma, Brenda, and Myles – thanks a million for coming out on this glorious day.
— DW