WALK REPORT Thanks girls! Did we have fun on Saturday or what? Here's a selection of photos from our Essex walk of last weekend. Liske, Laura, Sophie, and Kate joined me for a long, lazy stroll down the Roman River near Colchester. Our find of the day was blackberries. They're out, and they're DELICIOUS! Came home absolutely knackered after ten miles on the trail, with stops at five pubs. But it felt good. [walk profile]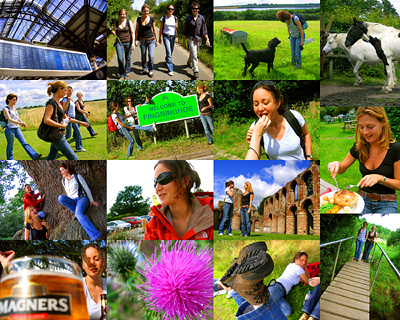 25 photos in this set. Scroll down for the full-size images, with captions.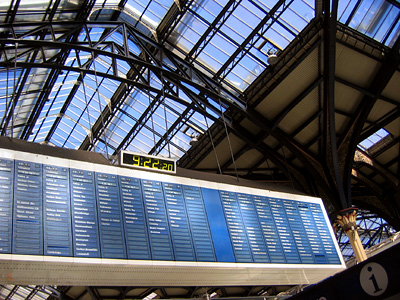 1. The departures board at London's Liverpool Street Station says it's 9:22am. Time to catch the fast train north to Colchester.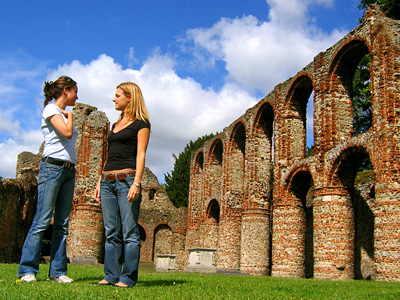 2. Liske and Sophie at our first stop of the day, St Botolph's Priory in Colchester.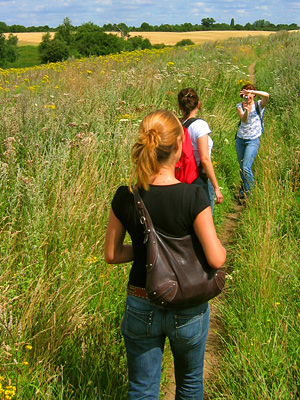 3. And here we are having just set off on our country walk. L to R: Sophie, Liske, and Kate, snapping a photo.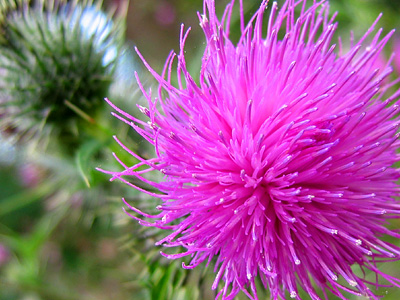 4. The flowering thistles look quite pretty at this time of year.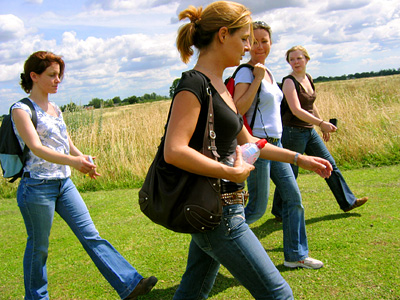 5. Kate, Sophie, Liske, and Laura on the march near the old Roman Temple at Gosbeck's Archaeological Park.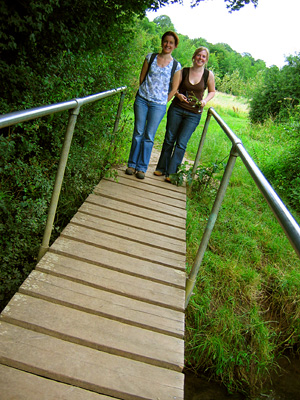 6. Kate and Laura about to cross the footbridge over the Roman River at Chest Wood. Caroline, do you remember? This is where you fell in the river in June!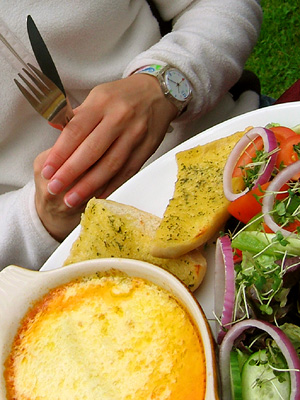 7. Kate's lunch at the Donkey & Buskins pub was this spinach and ricotta bake. Mmm. Tasty.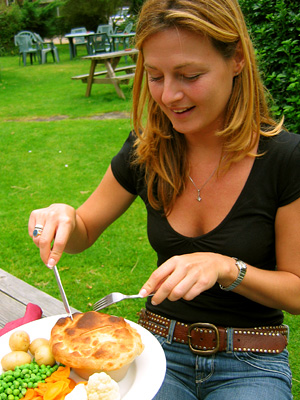 8. Sophie and I had the chicken, pork, and leek pie. Not so sure about that one – the pastry was a bit doughy. But a good meal, all considered.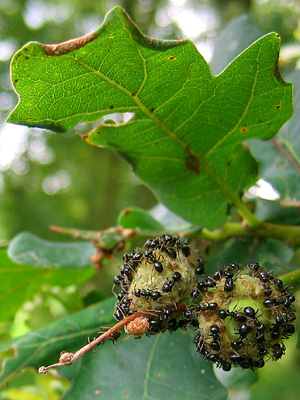 9. After lunch we walked down to the old mill near Malting Green. On the way I noticed this odd sight: a swarm of ants on a bunch of acorns. I wonder what's attracting them!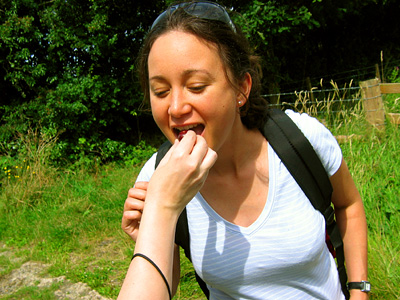 10. Laura feeding Liske a wild plum from a tree we found by the path.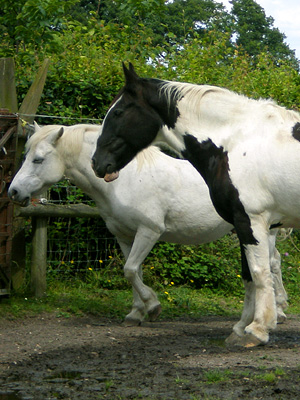 11. A work horse and his companion in a pasture near Malting Green. Photo by Kate Harper.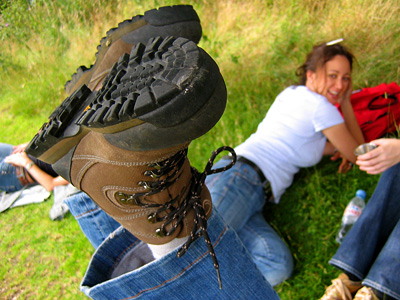 12. My, Liske, what big boots you have! Time for a spot of Earl Grey tea and a nap. Taken on the path near Abberton Manor.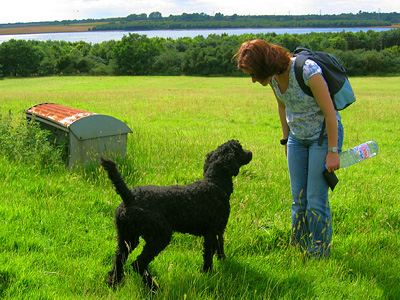 13. Kate greets a friendly Labradoodle in a meadow near Abberton Reservoir.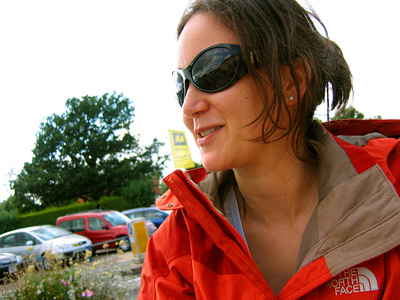 14. Liske, you ought to be a model. Taken at pub 2 of 5, the Langenhoe Lion, where we stopped for lemonade.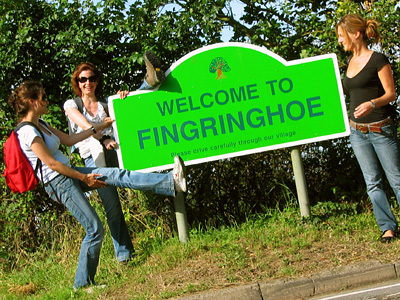 15. Hi-jinks on the way into Fingringhoe village. Very impressive, Kate. But can you still walk now?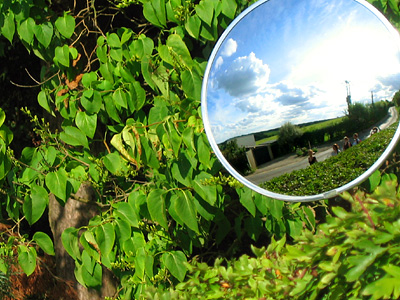 16. Damn, this didn't really work as intended. Tried to get a shot of us in this roadside safety mirror. Can you make out the five of us? We're quite tiny …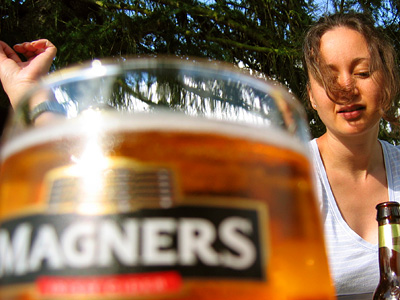 17. Pub #3, the Whalebone in Fingringhoe village. It's all downhill from here so we've moved on to cider.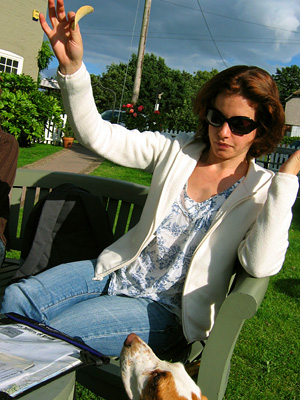 18. Kate tempts one of the Whalebone's ferocious basset hound guard dogs with a sour cream and onion flavored Pringle.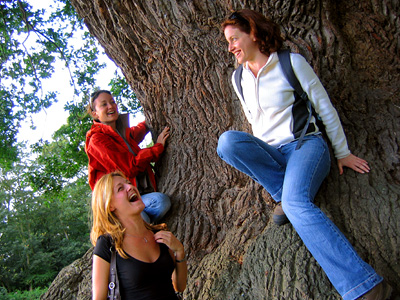 19. Liske, Sophie, and Kate playing around on the ancient oak in Fingringhoe village. It's 650 years old and really is a monster of a tree.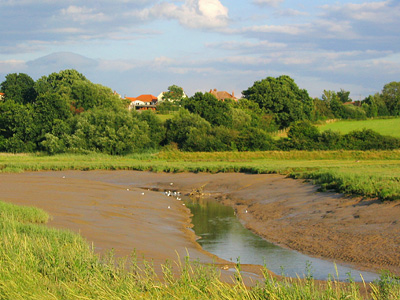 20. Low tide on the Roman River coming into Rowhedge. Nice evening light now.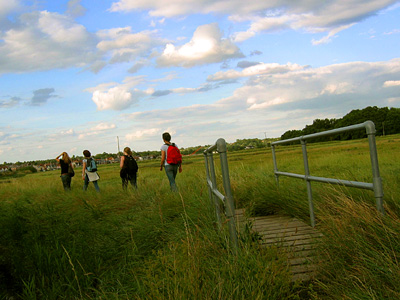 21. Our group crossing the marshes on the way into Rowhedge village. Last pub is dead ahead.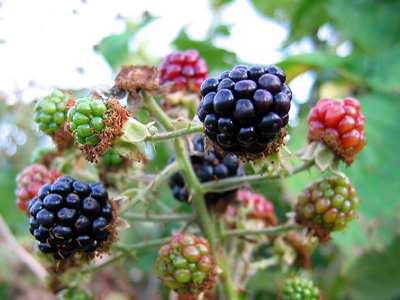 22. But not before we stopped to pick these delicious blackberries. You can see how they're only just starting to ripen.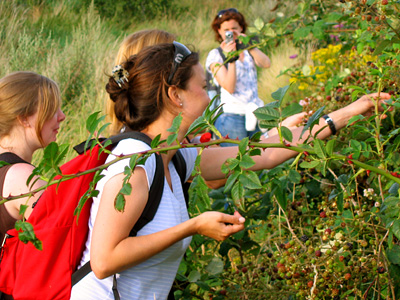 23. Laura and Liske wasting no time with the blackberry picking, while Kate snaps a photo.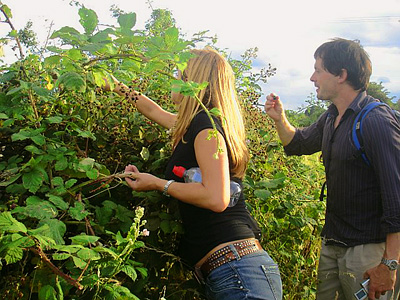 24. And here I am with Sophie. We couldn't stop eating them! Next time I'll bring a bag and take some home. Photo by Laura Broadley.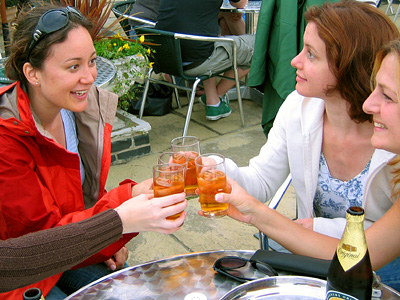 25. Walk complete! Liske, Kate, and Sophie doing silly toasts on the riverside terrace at the Anchor pub in Rowhedge.
That's THE END of this walk. Now you can try it yourself! This page has all the details you'll need. And if you've enjoyed these photos, please leave a comment. (If there's no comment box visible, you'll need to click the blue comment link below and scroll back to the bottom of the page.)
Sophie, Kate, Laura, and Liske – thanks a million for coming – it was a terrific day out!
— DW