WALK REPORT Photos from our Sunday walk to Bodiam Castle. Scroll down to see the larger pics. For shots of the castle itself, see my personal Flickr page. Your comments are welcome – you can leave one at the bottom of this post if you wish. Thanks! — DW [walk profile]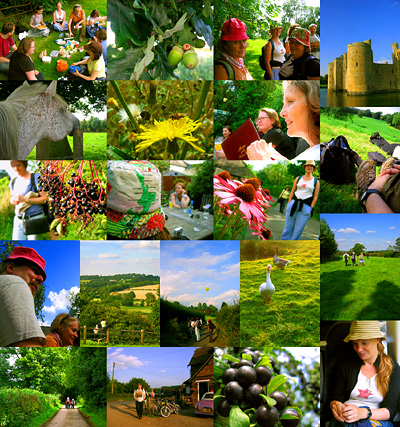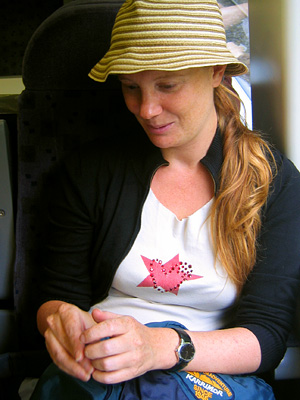 Miranda on the train to Robertsbridge.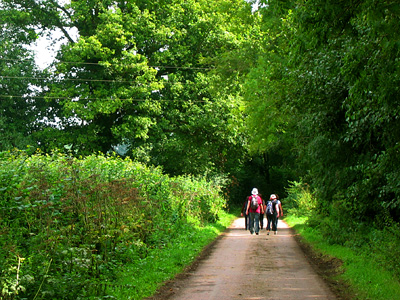 Following the road down the Rother Valley.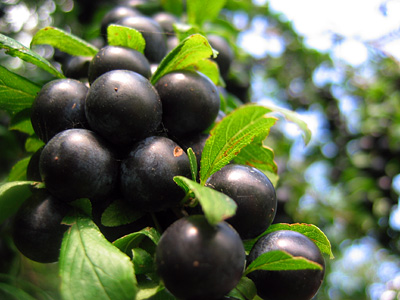 Sloe berries on the path into Salehurst village.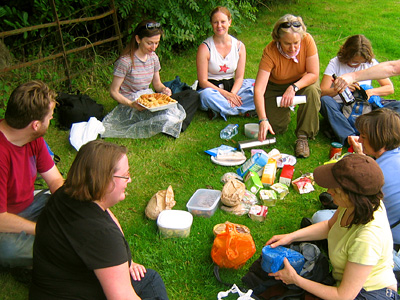 We stopped for a picnic lunch in a field near Higham House. Clockwise from bottom left: Tania, Andrew, Elena, Miranda, Anne (birthday girl!), Paula, Ross' left arm, Jane, and Eileen.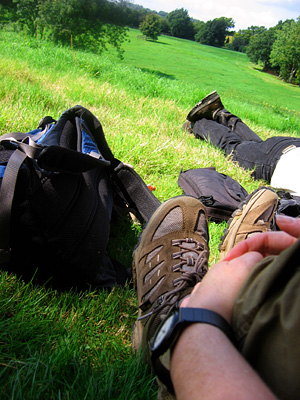 Napping after our picnic.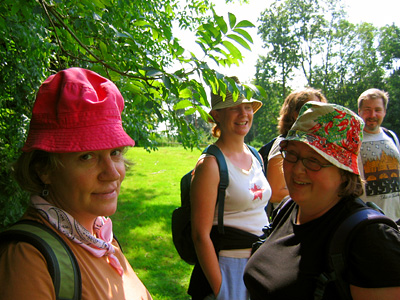 Time to hit the road again after lunch. Check out the stylish hats on these ladies. I really like Tania's – it's made out of a tea-towel and features a map of New Zealand (see further down for a close-up).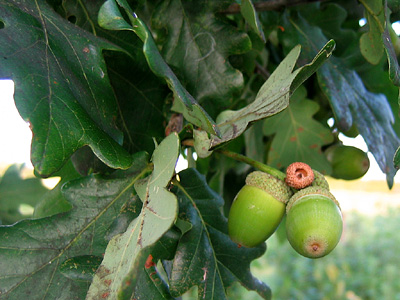 Acorns on an English oak.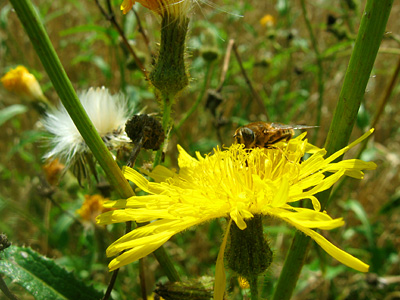 A bee on a dandelion.
The elderberries are ripening now. Jane passing a bunch on the path.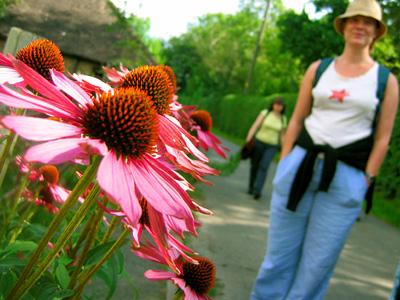 Eileen and Miranda on the little country lane that runs past Haiselman's Farm. The flower in the foreground is Echinacea purpurea 'Robert Bloom'.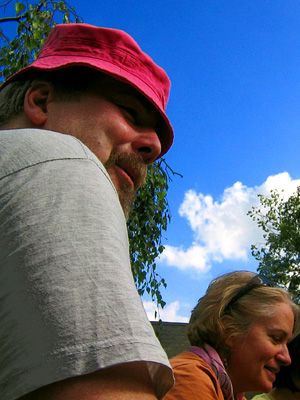 Ross and Anne at the Curlew pub. He stole her hat and proceeded to sing all four verses of the theme to Gilligan's Island at the top of his voice. And this after only one pint of Kronenbourg Blanc. Ah, the perils of drinking beer on a hot day.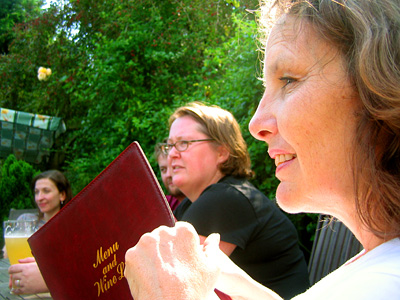 Elena, Andy, Tania, and Paula look on in shock. (Actually, I think Tania joined in on the chorus.)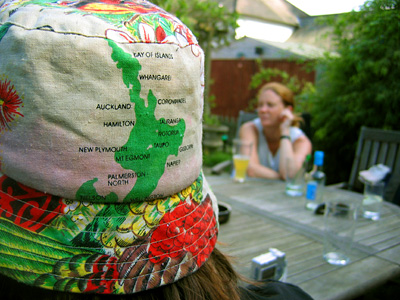 Here's a close-up of Tania's special Kiwi tea-towel hat.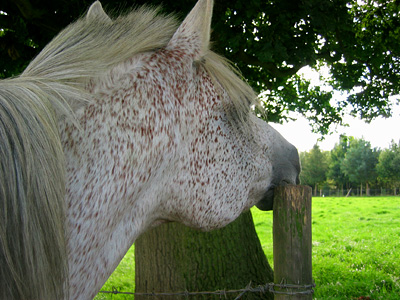 Back on the path to the castle. This friendly horse came to greet us.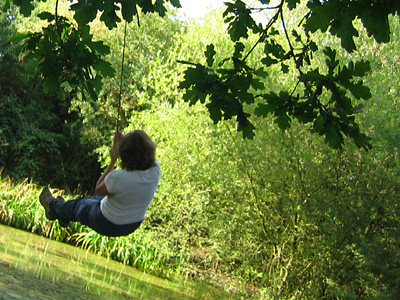 We found a swing by the path near Lower Northlands Farm. Here's Paula trying it out.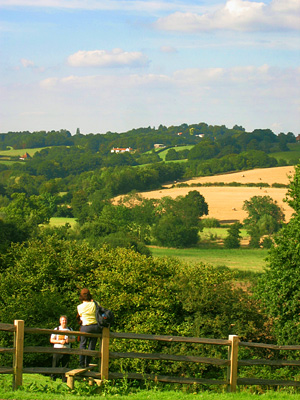 Ross and Eileen crossing the stile by Court Lodge Farm.
Go here to see my photos of us at the castle. Some of them make good desktop backgrounds.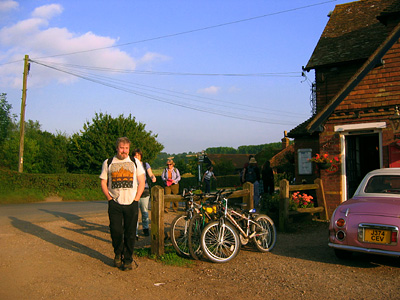 Ross and company outside pub #2 of 4, the Castle Inn at Bodiam.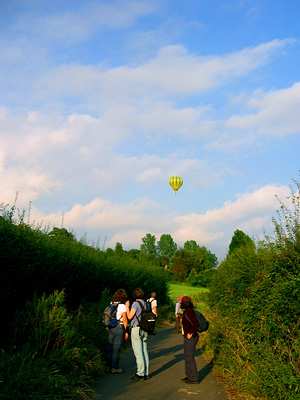 A hot air balloon rising up in the distance over Bodiam Castle.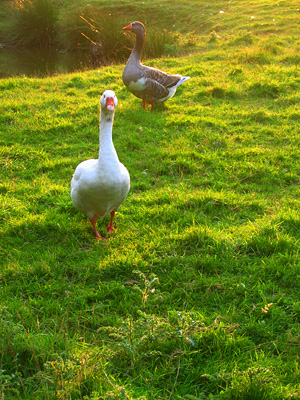 Geese at sunset, on the path near Haiselman's Farm.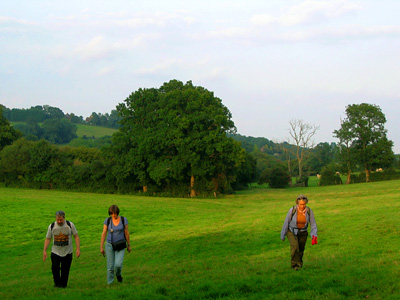 Heading home. Ross, Jane, and Anne crossing the fields near Park Farm. Guys, did anyone get a picture of our stop at the Salehurst Halt?
Happy Birthday Anne! Jane, Eileen, Ross, Tania, Andrew, Elena, Miranda, and Paula, thank you all so much for coming and hope to see you again soon.
If you'd like to try this walk too, this page has all the info you'll need. For a list of all my walks, please visit the home page.
— DW