This is kind of cool. In amongst the photos I took during last weekend's trip to West Somerset (walk report here), I found two shots which show a piece of Dunster Castle. Quite by chance they form a stereo pair, which means you ought to be able to view this image in 3D. [read comments]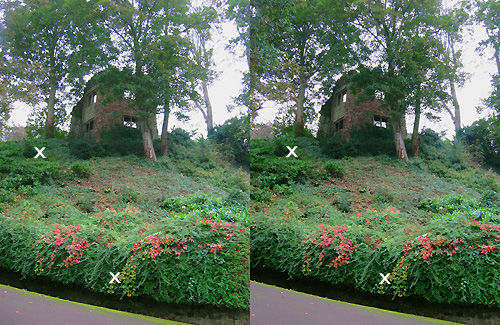 To make the 3D effect work, start with your head about 15 inches from the screen. Slowly begin to cross your eyes so that the pair of Xs in the foreground line up and overlap. Then freeze; after a few seconds your brain should recalibrate to this new way of seeing. Don't worry if you see 3 images – ignore the outer two and just concentrate on the middle one. It helps if you shield your peripheral vision by cupping your hands around your eyes.
Once you've lined up the first X, the second should appear further back up the hill. Now can you see the castle in 3D? You'll know you've got it when the bottom X appears to sink back into the shrubbery. The top X should float somewhere above the bushes.
With a little bit of patience and practice, and as long as you're not wearing glasses, it should work. When it does, it's pretty nifty! The individual leaves and tree branches jump out of the picture, giving you a sense of the image's true depth. Hint: relax your eyes and don't try to focus too hard. Also try varying your distance from the screen a bit.
If you want more help on how to view a stereo pair, try this page for more thorough instructions. Or watch this 3D animation I made here.
More pics from this trip here.
— DW
ps please leave a comment letting me know if you can see it or not – I'd be interested to hear what proportion of readers it's working for