River Towns of Essex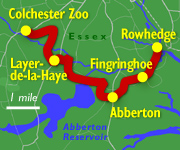 This walk lets you enjoy a long, leisurely stroll down the idyllic Roman River Valley, a forgotten little backwater of East Anglia that's steeped in ancient history. The route meanders through gentle countryside and takes in four small Essex villages, each one featuring its own uniquely characterful pub.
You'll also visit historic Roman Colchester and see Abberton Reservoir, one of the best sites in Europe for birdwatching. Finally, there's time at the end of the walk to relax and enjoy the sea air on the terrace at The Anchor, a wonderful pub on the waterfront in Rowhedge village.
This walk starts in London. We meet at 9:00am in the main ticket office at Liverpool Street rail station and return here later the same evening. Pre-booking required.
See the calendar for walk dates.
What's included
This full day out includes all roundtrip transportation from the starting point in London, and a guided walk down the Roman River Valley. It also includes a traditional pub lunch with a drink, at the Donkey & Buskins in Layer-de-la-Haye.
Price
Group size 1-2: £155 per person
Group size 3: £125 per person
Group size 4+: £110 per person

For groups of four or more, we also offer a half-day version of this trip for £70 per person. Please note that this price does not include lunch.
Our walk leaders accept payment in cash at the start of the walk.
For reservations and information call 07932 953 174 or email david@englishcountrywalks.com
Please be sure to mention:

(a) which walk you're interested in
(b) your desired dates and options
(c) the number of people in your party, and
(d) the best way to contact you